E-learning Course on Poverty Statistics for SDGs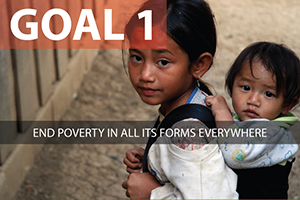 This course introduce fundamental knowledge on poverty statistics. This course will help you understand how to compile and monitor Sustainable Development Goals (SDGs) indicators related to poverty.
Target participants are early-career staff of statistical offices and users of official statistics with an interest in how they are produced. Neither formal education in statistical theory nor experience in a statistical office is a prerequisite for the course, though prior knowledge of statistical methods will aid understanding.
Getting help with the interactive presentations

If you are unable to open the interactive presentations and you are using Google Chrome, make sure you enable Flash (instructions: "For students using Google Chrome as their browser (pdf)") or
Try a different browser : Please use Internet Explorer or Firefox browser.
Materials
Lesson 1: What is Poverty and Why Poverty Measured?
- Definition of Poverty
- Poverty measures
- Relative Poverty and Absolute Poverty
- Poverty Line
- Monetary Measurement
- Definition and Methodology

Lesson 1 Interactive lesson (Please use Internet Explorer or Firefox browser)

html

Lesson 1 Interactive Slides (Download version)

pdf
Lesson 2: Indicator Framework to Measure Poverty
- From Domains to Indicators
- Indicator Compilation
- Conceptual Metadata
- Evolution of Poverty Measurement
- Aggregation and Disaggregation

Lesson 2: Interactive lesson (Please use Internet Explorer or Firefox browser)

html

Lesson 2: Interactive Slides (Download version)

pdf

Equivalency Scales Handout

pdf

Lesson 3: Poverty Measurement Tools
more specific technology how to measure poverty

Lesson 3: Interactive lesson (Please use Internet Explorer or Firefox browser)

html

Lesson 3 Interactive Slides (Download version)

pdf

Gini Coefficient Supplemental Handout

pdf
Lesson 4: SDG Targets and Indicators Related to Poverty
Specific targets and indicators related to poverty

Lesson 4: Interactive lesson (Please use Internet Explorer or Firefox browser)

html

Lesson 4 Interactive Slides (Download version)

pdf
Lesson 5. Examples of Poverty Statistics to Tackle Poverty
- best practices which have much to do with tackling poverty on the globe

Lesson 5: Interactive lesson

(Please use Internet Explorer or Firefox browser)
html

Lesson 5 Interactive Slides (Download version)

pdf